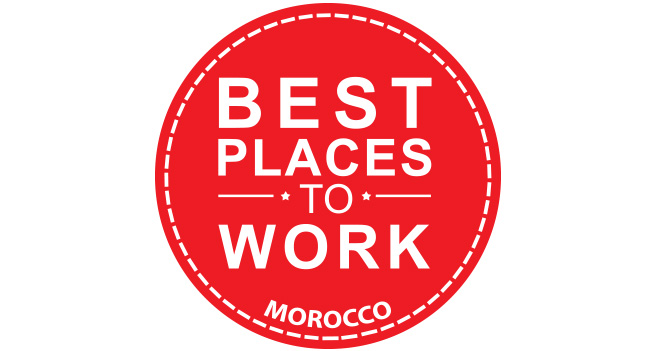 8 companies earned the Best Places To Work certification in Morocco for 2021
Comdata, BSH Electroménager, Société Général Africa Technology Services, ChaabiLLD, Teleperformance, Schindler, Pfizer, MSD Animal Health were certified recently as the Best Places To Work in Morocco for 2021 according to the annual workplace research program. These companies received outstanding scores as being  mission-driven organisations with great leadership and career development opportunities but also made employee health and safety a main priority.
Best Places to Work program is an international certification program providing employers in different regions the opportunity to assess their HR practices and learn more about the engagement and satisfaction of their employees and honor those who deliver an outstanding work experience. Despite the global context marked by the COVID-19 pandemic, the results illustrated the various initiatives taken by several employers in Tunisia to engage and retain their employees and support them remotely. The assessment covered this year a number of topics covering how the companies' responded to COVID-19 crisis and how well they succeeded in offering flexibility to their employees.
In the ranking, Comdata, the global leader in outsourced call center and customer relations services along with BSH Morocco, part of the international group specialized in the production, sale and installation of household appliances, maintained their first position in the list as the best employers for the year.
According to Didier Manzari, CEO of Comdata Maroc and Barcelona ​​"This is an award that honors and obliges us. This year has been very complicated for our employees, for our industry, for the world. Even if we are, like all companies, customer and business oriented"
In a joint statement by Luis Alvarez Gomez de Salazar Managing Director of BSH Morocco along with Mehdi El Boury, Deputy Managing Director "« At BSH we are on a mission to constantly improve the working lives of our colleagues. The foundation of our organization is our people. The professional and personal development of all of the team is very important to us, and we make every effort to ensure that everyone working for us feels supported and respected in everything they do »
According to Hamza Idrissi, Program Manager for Morocco "In this year program, The words collaborative, supportive, and caring are the top three words used to describe the companies culture. We would like to congratulate these companies not only for being places that value their employees like family but also because they succeeded in embracing their core culture, offering innovative ways of engaging with their employees during the pandemic"
ABOUT THE BEST PLACES TO WORK PROGRAM
Best Places To Work is the most definitive 'Employer of Choice' certification that organizations aspire to achieve. The program certifies and recognizes leading workplaces in many countries around the world with its proprietary assessment that analyzes a company's attractiveness through a two-step process focusing on 8 Workplace factors. Our Best Places to Work Assessment model is built on over 30 years of research in workplace excellence along with the best practices collected annually from over 5000 certified companies worldwide.