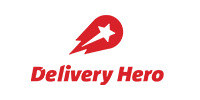 Delivery Hero earns certification among the Best Places To Work in Germany 2021
Berlin, Jan 25th 2021, Delivery Hero SE, the world's leading local delivery platform , has been recently recognized as one of the best places to work in Germany. Best Places to Work is an international certification program providing employers in different countries the opportunity to learn more about the engagement and satisfaction of their employees. It honors those who deliver an outstanding work experience with the highest standards in regards to working conditions.
During the company assessment, 86% of Delivery Hero employees declared the organization to be a great employer (versus an average of 79% for other German companies). Overall, employees gave the company high marks for flexibility, workplace culture and all the support provided to employees in response to the COVID-19 pandemic.
"We are delighted that Delivery Hero has been certified as one of the Best Places to Work in Germany 2021. It has always been our goal to build a company where employees can truly be themselves and to foster a culture that thrives on strong values and inclusivity. This certificate proves that we are on the right track, and we will continue to work on creating an amazing employee experience. A big thank you to our Heroes for making our company so much more than just a place to work" said Jeri Doris, Chief People Officer at Delivery Hero.
"We congratulate Delivery Hero on this achievement as one of the best places to work. Despite the disruption brought about by the pandemic, the company succeeded in maintaining a culture that cares deeply about quality and wellbeing of the employees. The organization takes pride in the ongoing efforts to develop, support and uplift employees in every facet of their roles" said Hamza Idrissi, Global Program Manager.
Learn more about Delivery Hero's culture and career opportunities here. 
ABOUT BEST PLACES TO WORK PROGRAM
Best Places To Work is a global HR certification program that recognizes leading workplaces in many countries around the world. Our proprietary assessment analyzes a company's attractiveness through a two-step process focusing on 8 Workplace factors including culture, leadership, opportunities for growth and people practices. Join our community on LinkedIn, Twitter, and Facebook.
For more information, please visit www.bestplacestoworkfor.org  
Contacts : Maria Mercedes | maria@bestplacestoworkfor.org | +44 208 895 6562
ABOUT DELIVERY HERO
Delivery Hero is the world's leading local delivery platform, operating its service in c. 50 countries across Asia, Europe, Latin America, the Middle East and North Africa. The company started as a food delivery service in 2011 and today runs its own delivery platform in over 700 cities. Additionally, Delivery Hero is pioneering quick commerce, the next generation of e-commerce, aiming to bring groceries and household goods to customers in under 20 minutes. Headquartered in Berlin,  Germany, the company has more than 27,000 employees. Delivery Hero is listed on the Frankfurt stock exchange since 2017, and became part of the leading index DAX (Deutscher Aktienindex) in 2020. For more information, please visit www.deliveryhero.com
MEDIA CONTACT
Chloé Gamache
Senior Specialist, Corporate and Innovation Communications
+49 171 93 69 681
press@deliveryhero.com