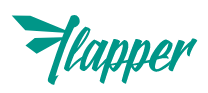 Flapper achieves the Best Place To Work certification in Brazil for 2021
Sao Paulo May 3rd 2021, Flapper, a leading providing of sophisticated, safe, and reliable air charter services, has been recently recognized as one of the best places to work in Brazil for 2021. The company received outstanding scores across several aspects of their workplace such as career opportunities, compensation and benefits, culture and values, senior management and work/life balance resulting in its recognition among the employers of choice in Brazil.
Best Places To Work is an international certification program, considered as the 'Platinum Standard' in identifying and recognizing top workplaces around the world, provide employers the opportunity to learn more about the engagement and the satisfaction of their employees and honor those who deliver an outstanding work experience with the highest standards in regards to working conditions.
In a statement from Manoel Assunção, Commercial Director for Flapper, "At Flapper we work very close to the CEO and executive team, they are very open to new ideas and suggestions. Management team provides a positive working environment, supports employee growth so everyone can give their best potential."
"Environment that provides the growth of the team. Communication between all areas in a linear way without hierarchy bureaucracy. At Flapper, you have a direct channel with the CEO. Flapper gives me wings to Fly higher than I ever Imagine," said Flavio Carvalho, Commercial Director for the organization.
"A mission-driven culture, transparent leadership and career opportunities are some of the hallmarks of Flapper Brazil. With this achievement today, the company clearly demonstrated its leadership in prioritizing the health, safety and well-being of their employees," said Hamza Idrissi, Global Program Manager.
ABOUT BEST PLACES TO WORK PROGRAM
Best Places To Work is the most definitive 'Employer of Choice' certification that organizations aspire to achieve. Our Best Places to Work Assessment model is built on over 30 years of research in workplace excellence along with the best practices collected annually from over 5000 certified companies worldwide. Join our community on LinkedIn, Twitter, and Facebook.
For more information, please visit www.bestplacestoworkfor.org