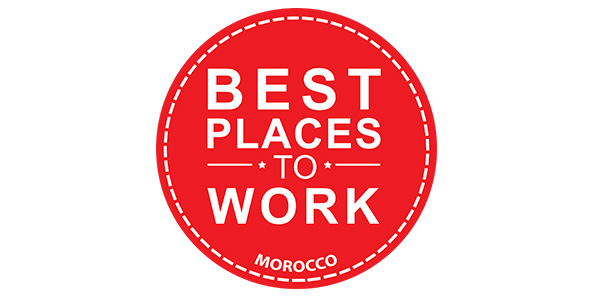 13 companies topping the lists of the Best Places to Work in Morocco for 2022
Casablanca June 16th 2022 - Dell, Roche, Groupe Banque Centrale Populaire du Maroc, Hilti, Alsa, Nestlé, Pharma 5, Les Eaux Minérales d'Oulmès, CDG Capital, Coface, BSH, Comdata, Asma Invest were certified as the Best Places to Work in Morocco for 2022 according to the annual workplace research program. More than 44 companies took part in this year assessment and only a selected number of companies received outstanding scores around the 8 topics of the program with engaging leadership, talent focus and career development opportunities.
Best Places to Work program is an international certification program providing employers in different countries the opportunity to assess their people practices and their employee experience and and honour those who deliver an outstanding work experience with the highest standards in people practices. 
In this year ranking, in the less than 100 employees category, Hilti Morocco came in the first position, followed by BSH and Asma Invest. In the 101 to 300 employees, Roche Morocco came in the first position followed by Coface and CDG Capital. In 301 to 1500 employees, Nestle Morocco came in the first position followed by Les Eaux Minerales de Oulmes and Pharma 5. In over 1501 employees category, Dell Morocco came in the first position followed by Banque Centrale Populaire, Comdata and Alsa. 
Every year, the program partners with many organizations in Morocco, across different industries, to help them measure, benchmark, improve their people practices and have access to the tools and expertise they need to deliver effective and sustainable change in their organizations.
In a statement from Hamza Idrissi, Program Manager for Morocco, he said "Despite the disruption brought about by the pandemic over the last two years, the average level of engagement of the top 13 companies is 81% and this is something to be proud of. This is an elite group of employers making sure that their employees are happy, healthy, and enjoy coming to work"
ABOUT THE BEST PLACES TO WORK PROGRAM
Best Places to Work is the most definitive 'Employer of Choice' certification that organizations aspire to achieve. For more information, visit: www.meilleuremployeuraumaroc.com. Join our community on LinkedIn, Twitter, and Facebook.