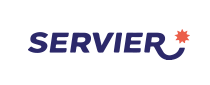 Servier achieves the Best Place to Work certification in Bulgaria for 2023
Sofia April 12th 2023 - Servier, a leading independent multinational pharmaceutical company focusing on oncology and chronic cardio metabolic diseases, has been recently recognized as one of the best places to work in Bulgaria for 2023. The company received outstanding scores across several aspects of their workplace such as career opportunities, compensation and benefits, relationships, personal growth and work/life balance resulting in its recognition among the employers of choice in Bulgaria.
Best Places to Work is an international certification program, considered as the 'Platinum Standard' in identifying and recognizing top workplaces around the world, provide employers the opportunity to learn more about the engagement and the satisfaction of their employees and honor those who deliver an outstanding work experience with the highest standards in regards to working conditions.
In a statement from Emilio Gagliardi, General Manager for Servier Bulgaria, he said "We are honoured to be certified Best Place to Work! This accomplishment confirms our commitment to building an outstanding workplace culture with our employees. We will continue to increase communication and collaboration to ensure a comfortable environment for our people to share ideas, facilitate learning opportunities and work towards a common goal - to make a meaningful impact for patients and for a sustainable world"
Antoaneta Nestorova, Head of HR, commented on this achievement "For all of us at Servier, this recognition means a lot and proves we are on the right track. Our employees are our top priority. We are convinced that outstanding results are achieved by happy and fulfilled people, who feel heard and supported. We take pride in our people's accomplishments and value them for who they are - both as professionals and personalities. I think this is the essential, where it all stems from. Our people are what makes Servier successful and feel-good-to-be-part-of as a community.  We'll ensure that we maintain what makes us strong today and will move forward."
A mission-driven culture, transparent leadership and career opportunities are some of the hallmarks of Servier Bulgaria. With this achievement today, the company clearly demonstrated its leadership in prioritizing the health, safety and well-being of their employees.
For more information, please visit www.bestplacestoworkfor.org. Join our community on LinkedIn, Twitter, and Facebook.