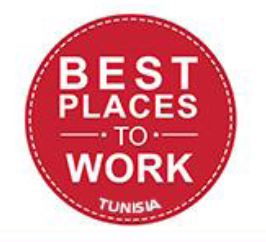 The list of the best places to work in Tunisia 2018 will be unveiled on January 31th 2018 in Sheraton Tunis Hotel.
What are the Tunisian companies that offer benefits, extensive training or exceptional working environment in 2018?
This program allows companies to take the pulse of their employees, to benchmark with industry leaders but also to measure the trends in employee's engagement.
In its third year in Tunisia, the list of best employers in Tunisia aims to determine which employers stand out in their industries in offering exceptional working environments for their employees.
Different criteria are used in the evaluation of employers including: physical workplace, work atmosphere and sociability, financial and family benefits, vacation and time off, employee engagement, performance management, training and skills development, and finally, community involvement.
This initiative organized by the U.S. Institute "Best Companies Group", which manages many international programs in the world in partnership with other local organisations. « It's very interesting to see that the Best Employers in Tunisia program help companies benchmark their HR practices on local and international level » says Mr Hamza Idrissi, Program Manager in Tunisia.
The objective of this regional program is to create environments where people could not just talk about engagement but actually physically experience it.
Many local and international firms are expected to be named "Best Places to Work for in Tunisia in 2018".
For more information about the program, please visit www.meilleuremployeurentunisie.comor call at +216 51 746 789.
Communication Department
Program « Best Places To Work For in Tunisia »
Tel: +216 51 746 789.