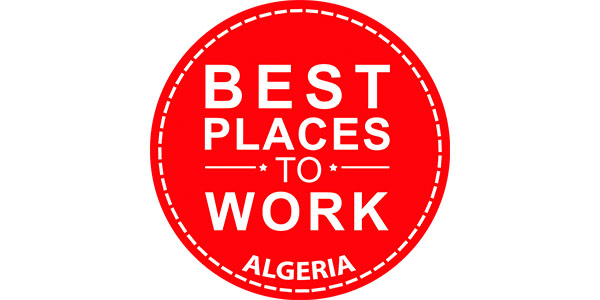 Ooredoo et Webhelp en pole position parmi les Meilleurs Employeurs en Algérie en 2022
Alger, le 1 Juin 2022

Les lauréats du programme des '' Meilleurs Employeurs en Algérie 2022 '' ont été dévoilés ce mercredi 1 Juin 2022. Ce programme international de certification RH est organisé en Algérie depuis 7 ans et vise à rendre hommage aux entreprises offrant le meilleur environnement de travail et appliquant des critères d'excellence en matière de pratiques RH.

Ooredoo Algérie, filiale d'un groupe international des télécommunications qui fournit les services de téléphonie mobile, fixe et l'Internet haut débit et les services Entreprise adaptés aux besoins des particuliers et des entreprises à travers les marchés du Moyen Orient, d'Afrique du Nord et du Sud-Est asiatique, a obtenu la première position dans la catégorie de plus de 1000 collaborateurs. 88% des collaborateurs considèrent qu'il fait bon travailler chez Ooredoo Algérie et 81% d'entre eux soulignent la convivialité omniprésente dans l'entreprise. Nessrine KRIM, Directrice RH a déclaré pour l'occasion « Ooredoo Algérie est ravie et honorée d'être certifiée "Best Places to Work". Cette distinction est le résultat d'une relation de confiance mutuelle qui s'est installée entre collaborateurs et employeur. Ceci confirme notre engagement à bâtir une culture gagnante et un avenir de travail épanouissant avec nos collaborateurs et parties prenantes. Nous sommes plus que fiers d'avoir une telle force humaine engagée, motivée, talentueuse et reconnaissante envers une entreprise de telle envergure et qui marque sa présence sur le marché des télécommunications locale, à travers l'engagement de son capital humain qui ne ménage aucun effort à la propulser au sommet. »

Webhelp Algérie, filiale du groupe français spécialisé dans l'externalisation de la gestion de l'expérience client, a obtenu la première position dans la catégorie de moins de 1000 collaborateurs. L'entreprise offre un environnement de travail agréable et épanouissant, orientée sur le bien-être et la santé de tous les collaborateurs. Gilles GUERIN, Directeur Général de Webhelp Algérie a déclaré pour l'occasion « « L'épanouissement de nos employés dans un environnement positif constitue une priorité au sein de notre entreprise et un atout compétitif majeur. Avec la certification Best Place To Work, nous sommes fiers de confirmer notre position d'employeur de choix parmi les entreprises nationales et multinationales en Algérie. En effet, grâce à une culture d'entreprise basée sur des valeurs fortes, nos employés, tel qu'ils l'ont eux-mêmes exprimé à l'organisme de certification, trouvent au sein de Webhelp un environnement de travail propice à la communication, à la formation et à l'évolution des carrières ».

Malgré le contexte mondial difficile marqué par la pandémie du Covid 19 durant ces deux dernières années, ces résultats illustrent les diverses actions engagées par plusieurs employeurs en Algérie pour retenir et fidéliser les collaborateurs et les accompagner dans leur développement personnel et professionnel. 

Chaque année, le programme évalue la qualité de vie au travail de plusieurs entreprises en Algérie grâce à une méthodologie rigoureuse et transparente. D'abord, une évaluation RH compilant l'ensemble des pratiques managériales au service du bien-être au travail et une deuxième évaluation anonyme adressée aux collaborateurs autour de 8 thématiques incluant la culture de l'entreprise, le leadership du management, les opportunités d'apprentissage et les pratiques RH.

Pour en savoir plus, n'hésitez pas à visiter le site web : http://bestplacestoworkfor.org/algeria