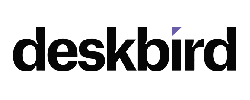 deskbird earns the certification as one of the best places to work in 2023
London, May 29th 2023 - deskbird, a leading tech company offering workplace solutions for hybrid companies, was recently recognized as one of the best places to work in 2023. During the assessment, the company received outstanding scores across several aspects of its workplace, such as leadership, learning opportunities, trust, and employee personal growth, resulting in its recognition among the employer of choice.
Best Places to Work is an international HR certification program providing employers in different countries the opportunity to learn more about the engagement and satisfaction of their employees and honor those who deliver an outstanding work experience with the highest standards regarding working conditions.
"Thrilled to share that deskbird has received the Best Places to Work award!" said Jonas Hess, CPO & Co-founder of the company. "Our journey has been guided by some of our core values - holy team, ownership, a bias for action, active listening, and curiosity. These values shape our unique culture and decision-making, helping us collaborate effectively and deliver top-notch customer experiences. Huge shout-out to our team, whose dedication has turned these values from words on a page into our reality. As we continue embracing these values, I'm confident we'll keep growing and making waves in our industry."
Ivan Cossu, CEO & Co-founder, added "One of our core values at deskbird is: think big each day. Our unwavering belief is that we can turn our most ambitious aspirations into reality by being the best version of ourselves - day in, day out. This award validates our commitment to excellence, motivates us to continue pushing boundaries, and serves as a reminder that our distinct culture makes deskbird exceptional. Receiving the Best Place to Work award is an incredible milestone for us. It reinforces our commitment to creating an exceptional workplace with exceptional people."
Within the scope of the research conducted by the Best Places to Work organization, 98% of the employees rated the company high regarding its teamwork efforts and creating a respectful and fair environment. The Best Places to Work organization, which operates on a global scale, has been conducting analysis and research across 10,000 companies and over 25 million employees annually.
For more information about the company, visit https://www.deskbird.com