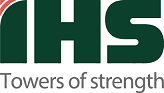 IHS Towers certified "Best Place to Work" in Ivory Coast for 2021
Abidjan December 21st 2021 : IHS Towers Ivory Coast, an affiliate one of the largest telecommunications infrastructure providers in Africa, Latin America and the Middle East, was recently certified among the best employers for 2021.
Best Places to Work is an international certification program, considered as the 'Platinum Standard' in identifying and recognizing top workplaces around the world, providing employers the opportunity to learn more about the engagement and the satisfaction of their employees and honor those who deliver an outstanding work experience with the highest standards in regards to working conditions. 
In a statement from Fatim Cissé, CEO of IHS Ivory Coast, she said "I am pleased to announce that we have recently been recognized as one of the best employers in (Ivory Coast) for the year 2021. Indeed, our company has received exceptional marks in several aspects such as learning and development, leadership, talent strategy, culture, career and succession, which has earned it recognition as an employer of choice in Ivory Coast. The members of the top Management Committee and I are extremely proud of this accomplishment and we will strive to continuously improve our management practices, which will have the impact of increasing the satisfaction of our customers, shareholders, suppliers and society in general! " 
For Choilio Dosso, Director of HR, he said "We are honored and proud to be certified this year 2021 as a Best Place to Work in Ivory Coast. This is the result of the hard work of IHS Towers management team and all employees in creating a great working environment around our core values of customer focus, innovation, integrity and daring. We take this achievement with great pride, but it is also a great responsibility as we must always maintain our position as the employer of choice at all times. This commitment is shared by the members of the management team and all the employees of IHS Towers Ivory Coast. Let's celebrate this success with our employees!"
Every year in Ivory Coast, the program partners with many organizations, across different industries, to help them measure, benchmark, improve their HR practices and have access to the tools and expertise they need to deliver effective and sustainable change in their organizations.
ABOUT BEST PLACES TO WORK PROGRAM 
Best Places to Work is the most definitive 'Employer of Choice' certification that organizations aspire to achieve. The program certifies and recognizes leading workplaces in many countries around the world with its proprietary assessment that analyzes a company's attractiveness through a two-step process focusing on 8 Workplace factors. Join our community on LinkedIn, Twitter, and Facebook.
For more information, please visit www.bestplacestoworkfor.org  
Contacts : Maria Mercedes | maria@bestplacestoworkfor.org | +44 208 895 6562