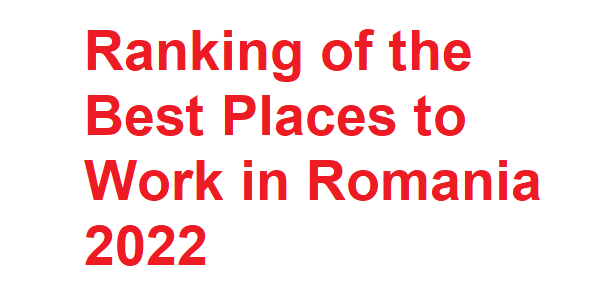 The top 5 Best Places to Work in Romania for 2022 revealed
Bucharest, Jan 10th 2023 : Servier, Medist Group, Comdata, Alten, Cetelem are recognized as the top 5 best places to work in Romania for 2022 according to the annual prestigious "Best Places to Work" certification program. 
Servier, an affiliate of the French pharmaceutical company, was awarded the top position followed by Medist Group, a leading group operating in the distribution and after sales support of medical instruments and management. Comdata, an affiliate of the leading global service provider in Customer Interaction and Process Management, came in third position. Alten Delivery Center Romania came in the fourth position followed by Cetetem Romania, an affiliate of the BNP Paribas Personal Finance.
Despite the challenges faced globally around employee turnover and declining engagement level, the average level of engagement of the top performing companies in Romania is 82% and this is something to be proud of. This is an elite group of employers in Romania making sure that their employees are happy, healthy, and enjoy coming to work. Research from this year has shown that leading organizations Romania that have been recognized as Best Places to Work are well-positioned to win the war for talent. They consistently drive long-term performance through effective leadership, innovative HR practices, talent focus and great employee experience. 
Best Places to Work is an international certification program, considered as the 'Platinum Standard' in identifying and recognizing top workplaces around the world, providing employers the opportunity to learn more about the engagement and the satisfaction of their employees and honour those who deliver an outstanding work experience with the highest standards in regards to working conditions.
Every year in Romania, the program partners with many organizations, across different industries, to help them measure, benchmark, improve their HR practices and use data-driven insights to add value, enhance agility, and increase organizational effectiveness.
For more information about the program, please visit www.bestplacestoworkfor.org