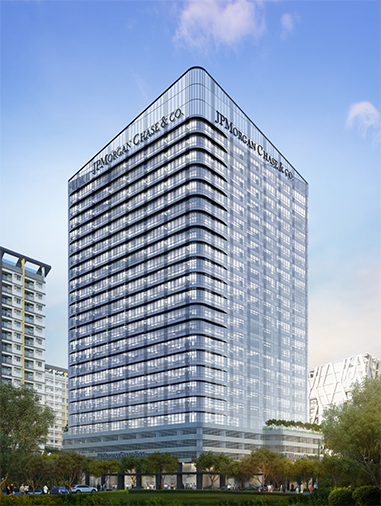 JPMorgan Chase & Co. (NYSE: JPM) is a leading financial services firm based in the United States of America ("U.S."), with operations worldwide. JPMorgan Chase had $3.7 trillion in assets and $294.1 billion in stockholders' equity as of December 31, 2021. The Firm is a leader in investment banking, financial services for consumers and small businesses, commercial banking, financial transaction processing and asset management. Under the J.P. Morgan and Chase brands, the Firm serves millions of customers in the U.S. and many of the world's most prominent corporate, institutional and government clients globally. Information about JPMorgan Chase & Co. is available at www.jpmorganchase.com.  
JPMorgan Chase & Co. began its operations in the Philippines in 1961 with a representative office. Since then, the firm has expanded its presence into a fully integrated franchise, comprising Investment Banking, Treasury and Securities Services, Equity Sales and Research as well as foreign exchange and fixed income trading operations. JPMorgan Chase & Co. has a number of legal entities operating in the country, including the Manila Branch of the bank, which has a commercial banking license as well as a derivatives license, a securities company with a seat on the Philippine Stock Exchange, and a Service Center which provides strategic support to the firm's global businesses.
Media Relations contact: Patricia (Pixie) Javier-Gutierrez, Head of Communications, Philippines, patricia.javier-gutierrez@jpmorgan.com, ++63 917 898 0068.
At JPMorgan Chase, we adhere to a set of principles which we consider fundamental to our long-term business success—from providing exceptional client service, operating at the highest standards of excellence, to upholding the values of integrity, fairness and responsibility in everything we do. We invest in our own people and provide them with the necessary tools, resources, and work environment to grow personally and professionally. We are devoted to creating a great team and winning culture while building and maintaining our reputation as the best and most respected financial services company in the world -- one that our employees, stakeholders and communities can be proud of.
Furthermore, we believe in a culture of respect, equity and inclusion. Across our global operations, we remain focused on cultivating a diverse and inclusive work environment for our employees and our business. From constantly reassessing our recruiting and training practices, to engaging our employees to get involved in initiatives that would support and create awareness for underserved and under-represented communities.
We believe that continuous learning contributes immensely to long-term career growth. As a firm, we provide our employees learning opportunities designed to build their skills, accelerate their development and increase their career mobility opportunities. From allowing them to enroll in on-demand learning programs based on their goals, to making it easy to find professional certification or degree programs that's right for them and supporting the development of leadership skills, we will continue to invest in our most important resource, our people.
We invite potential candidates to choose a career with choice. Given our scale and breadth of services, you'll have several opportunities to explore unchartered territory in financial services – working with exciting brands and clients, and becoming a more well-rounded professional. We enjoin you to build a career with us that will grow as you do.
At JPMorgan Chase, you will join collaborative teams that care about their work and care about helping each other. You will be encouraged to come to work as yourself and you will have opportunities to innovate in any role you choose. Your work will have a positive impact on your customers, clients and communities, working at one of the most admired companies in the world. You will never stop learning here, and we will learn with, invest in and support you along the way.